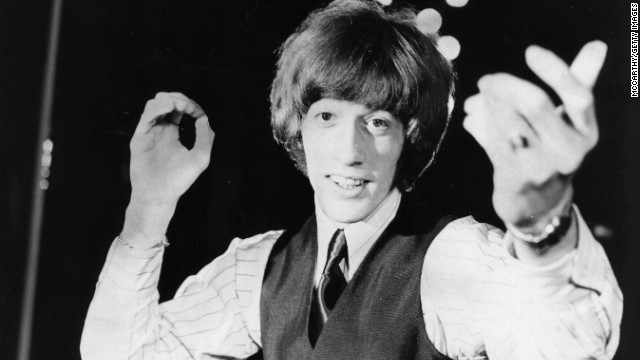 Robin Gibb, one of three brothers who made up the disco group The Bee Gees, died Sunday, May 20. He was 62.
The Bee Gees, formerly known as The Brothers Gibb, pose in front of a Rolls Royce showroom in 1967.
Australian musician Colin Petersen, a drummer with the popular disco group The Bee Gees, tinkering under the hood of his car in 1965.
The Bee Gees pose in London in 1967. From left to right, Barry Gibb, Robin Gibb, drummer Colin Peterson and Maurice Gibb.
The Bee Gees with a bear skin rug.
Robin Gibb, left, and brother Barry at London's Heathrow Airport in 1967.
The Bee Gees sporting fashionable jackets in 1967.
The Bee Gees walk down a New York City Street in 1968. From left to right, bassist Vince Melouney, Robin Gibb, Barry Gibb, Maurice Gibb, and drummer Colin Peterson.
Singer Barry Gibb poses just after winning a Beau Brummell award for best-dressed personality in Britain.
Maurice and Barry Gibb rehearse for the TV show "Cucumber Castle" in 1969.
Maurice Gibb and his new bride, Scottish pop singer Lulu, exit Gerrards Cross Church in Buckinghamshire, England, on February 18, 1969.
From left to right, brothers Barry, Robin and Maurice Gibb in 1970.
Maurice, Barry and Robin Gibb of the Bee Gees in 1973.
Robin Gibb sings on stage during a concert in London in 1975.
Robin, Barry and Maurice do a promotional shot for director Michael Schultz's Beatles tribute film, "Sgt. Pepper's Lonely Hearts Club Band," in 1977.
The Bee Gees pose with Barry Manilow at the American Music Awards in1979. Manilow won the award for Favorite Pop/Rock Male Artist, and the Bee Gees won Favorite Pop/Rock Band, Duo, or Group.
Maurice, Barry and Robin in 1989.
The Bee Gees perform during the "One Night Only" concert at Stadium Australia in Sydney, Australia, in March, 1999.
Barry, Robin and Maurice pose at a New York press conference in 2001 announcing the release of the Bee Gees album "This is Where I Came In."
Robin Gibb displays his World Artist Award for Lifetime Achievement during the 2003 World Awards in Hamburg, Germany. Gibb accepted the award on behalf of the Bee Gees.
Yusuf Islam (formerly Cat Stevens) and Robin Gibb arrive at the "Adopt-A-Minefield" benefit gala in support of landmine victims in 2005 in Neuss, Germany.
Robin and Barry Gibb arrive for The Ivor Novello Awards at the Grosvenor Hotel on May 25, 2006, in London, England.
Barry and Robin share the stage with Yvonne Gibb (wife of Maurice, who died in 2003) and BMI CEO Del Bryant at the BMI Pop Awards in Beverly Hills, California, in 2007.
Robin attends the World Music Awards in Monte Carlo in 2010.
Robin Gibb and John Travolta pose after Gibb announced Travolta as the winner of a Golden Camera media prize in Berlin in February 2010.
Bee Gees through the years
Bee Gees through the years
Bee Gees through the years
Bee Gees through the years
Bee Gees through the years
Bee Gees through the years
Bee Gees through the years
Bee Gees through the years
Bee Gees through the years
Bee Gees through the years
Bee Gees through the years
Bee Gees through the years
Bee Gees through the years
Bee Gees through the years
Bee Gees through the years
Bee Gees through the years
Bee Gees through the years
Bee Gees through the years
Bee Gees through the years
Bee Gees through the years
Bee Gees through the years
Bee Gees through the years
Bee Gees through the years
Bee Gees through the years
Bee Gees through the years